As Chinese Independent Masterbatch Brand Interviewed by CCTV
We took part in Chinaplas, Vietnamplas and China (Beijing) International Rubber & Plastic & Printing & Packing fair and other Exhibtions.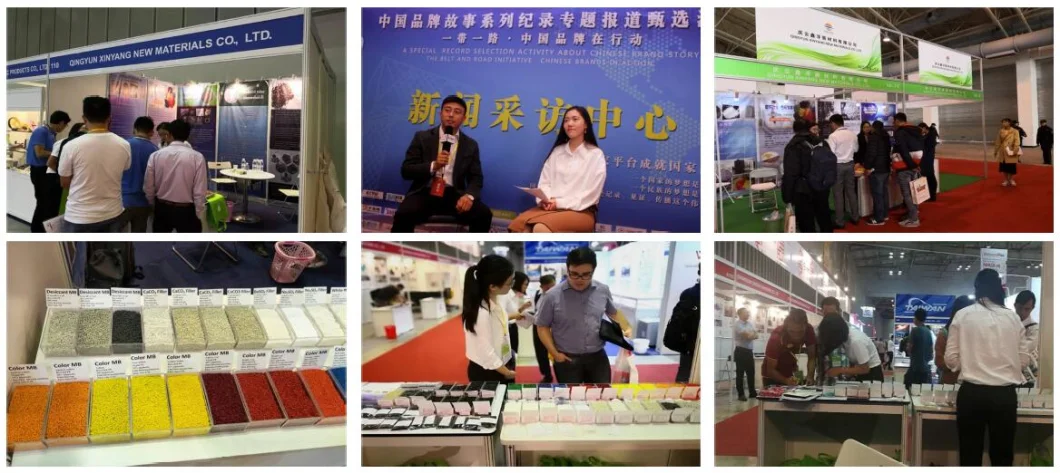 Black masterbatch details
Black masterbatch is the most commonly used masterbatch and is produced by our company by a large amount. Black masterbatch is composed of carbon black, PE resin and additives.
Black masterbatch specifications
Black masterbatch test data sheet

Testing item

Unit/raw material

Standard value

Tested value

Result

Customized

Carbon Black

Color black

40%

40%

Qualified

20%-45%

Carrier

PE

(

virgin

)

+additives

60%

60%

Qualified

PE

,

PP

,

ABS

,

PS

Filler

CaCO3

0%

0%

Qualified

0%-50%

MFR(190

ºC

21.6kg)

g/10min

60-80

60-80

Qualified

60-80

Melting

ºC

105

ºC

105

ºC

Qualified

105-180

ºC

Density

g/m3

1.2-1.3

1.2-1.3

Qualified

1.2-1.3

Moisture

%

0.1%

0.1%

Qualified

NO

Heat resistance

ºC

300

ºC

300

ºC

Qualified

NO

Transference resistance

Grade

7-8grade

7-8grade

Qualified

NO

Weather resistance

Grade

7-8grade

7-8grade

Qualified

NO

Add ratio

%

1%-10%

1%-10%

Qualified

1%-10%
Black masterbatch advantage
Uniform dispersion
Strong tinting strength
Non-toxic and environment-friendly
Certified by RoHS & SGS& ISO9001
Good dispersing & heat resistance
High concentration pigment with bright colors
High blackness
High brightness
Uniform dispersion
High tinting strength
Excellent dispersion
Good heat-resistance
With wide application
High concentration pigment
Good dyeing property
High brightness
Black masterbatch applications
Injection Molding (Box, Containers, Chairs, Crates, Buckets, Battery, cases, Hangers, etc.)
Injection Molding (Automotive, Electronic, Construction, House wares, Furniture, Toys, etc.)
Extrusion Molding (Sheet, Pipe, Wire & Cable, etc.)
Film (shopping bags, casting film, multilayer film, etc.)
Fiber (Carpet, Textiles, Upholstery, etc.)
Blow Molding (Medical & Cosmetic Container, Lubricant & Paint Container, etc)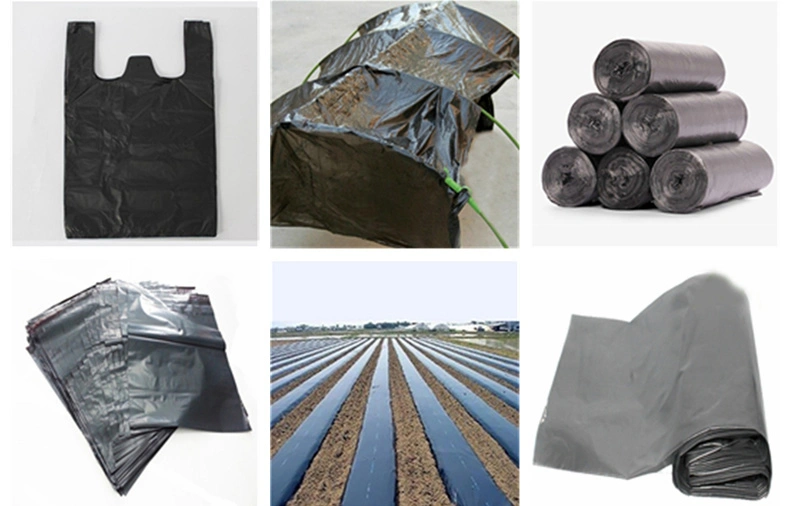 Packaging & Shipping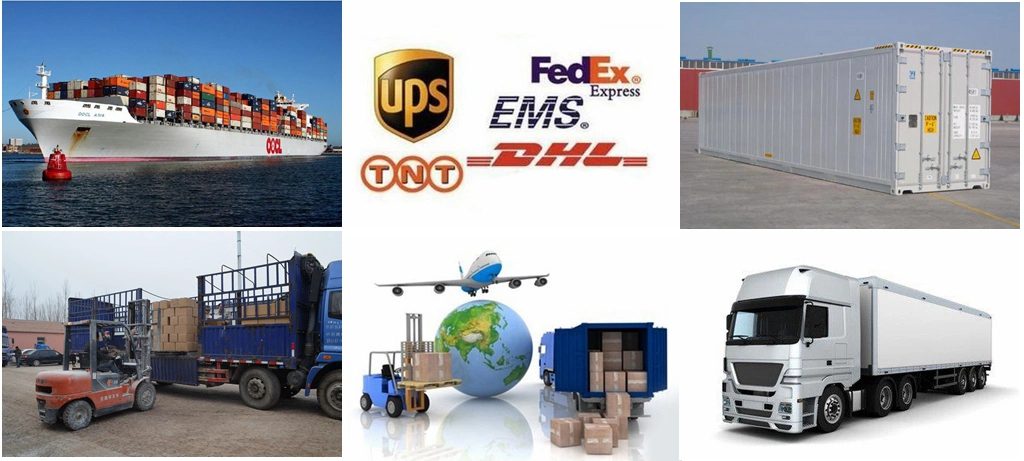 Why choose us?
We can provide a complete set of data analysis.
We can provide a large number of mechanical operation images to ensure the quality of production.
We have advanced production technology, constant innovation.
We promise that our product has passed through rigorous test, the quality can be guaranteed and reliable.
We have modern production and testing equipment.
We have high quality raw material, advanced facilities, fine procedures.
We own high productivity and fast delivery.
We have leading level R & D department.
We have strong production capacity, high speed delivery.
We provide good quality product with competitive price.
We have experienced marketing manager.
We have professional design department.
We provide excellent after-sales service.
We will do our best for the customer as long as you choosing us.
We promise to solve all the problems during trading process.
We promise our quality and the products will be approved by your side.
We will regularly track level of customer satisfaction.
We have automated the process of providing services.
We focus on quality management.
FAQ
Does the buyer have other ways to get the needed color?
Yes, you can just inform us the general international color number (eg. Pantone). We will produce the sample according to the color number.
How does the seller make sure what they provide is exactly what the buyer needs?
We will make sample first and confirm with the buyer. After confirm the sample with the buyer, we will produce the formal order.
Could I get a sample for free?
Yes, you can get the sample for free, but should bear the delivery fee.
What should the buyer do before using the masterbatch?
You should confirm the percentage of appending proportion. For example, if using for film blowing with PE material, the required percentage is 4%.
What's the normal proportion?
The normal proportion is 2% - 4%. But it is not fixed. It depends on the buyer's requirement.
How does the buyer use the masterbatch?
Mix the material and the masterbatch together by the blender mixer according to the appending proportion. If no blender mixer, it can be manual mixed.
Company information
Our company is qualified as a supplier of numerous domestic and international companies, and we have won a high praise from foreign and domestic customers.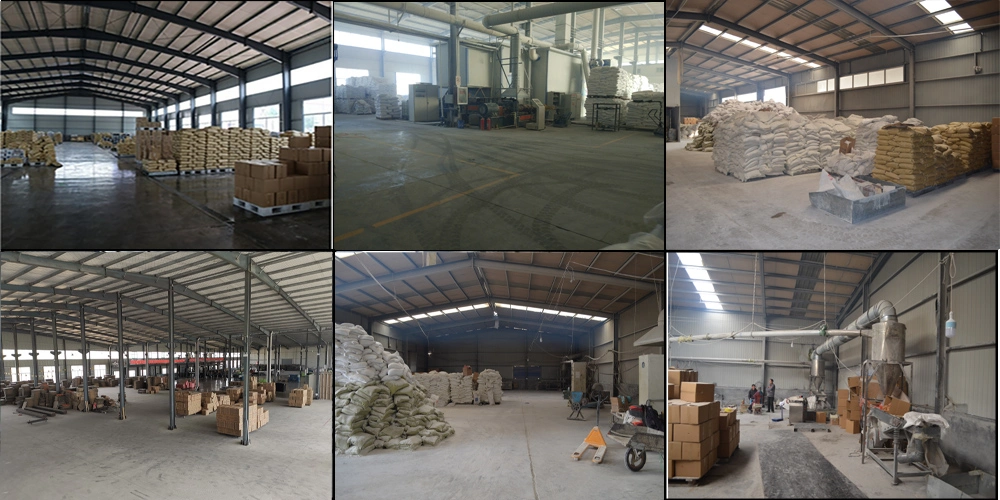 Certification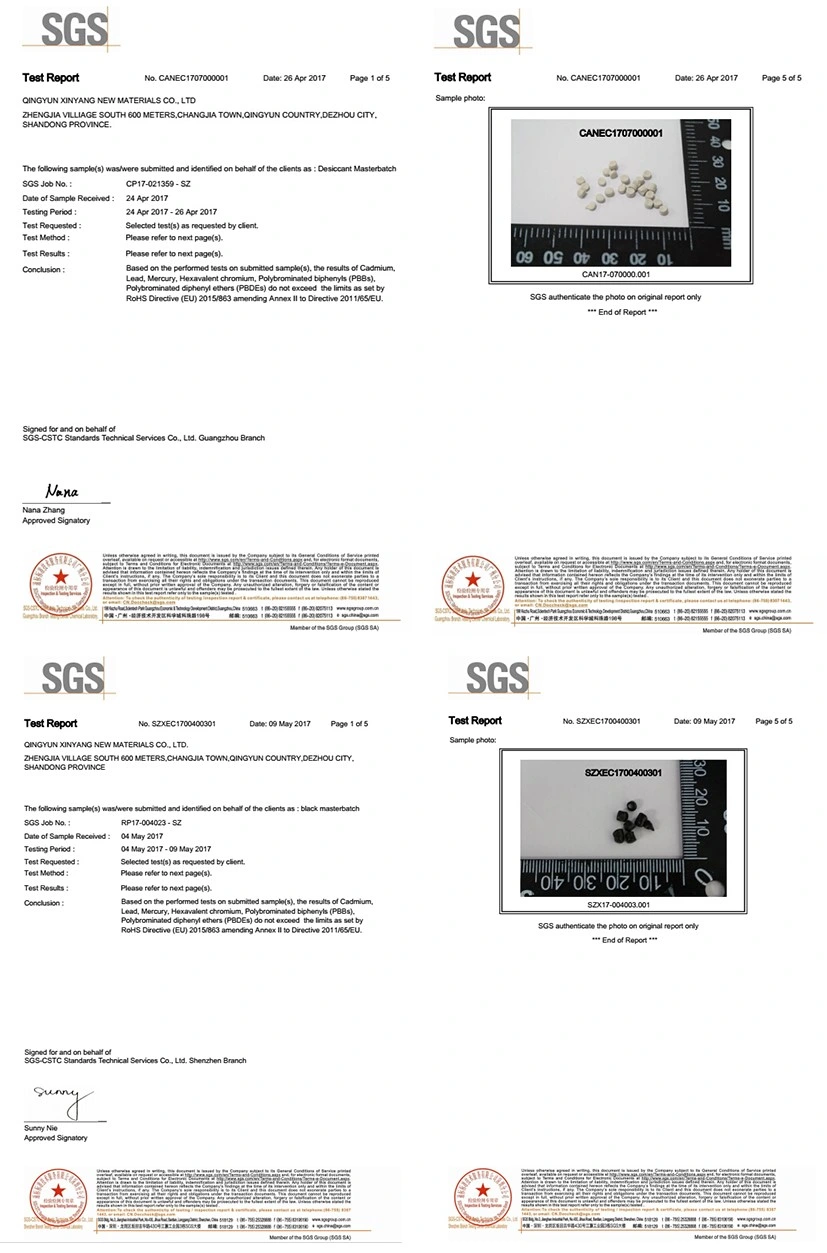 Contact Information