Product Name:
Acid Silicone Sealant HTL-998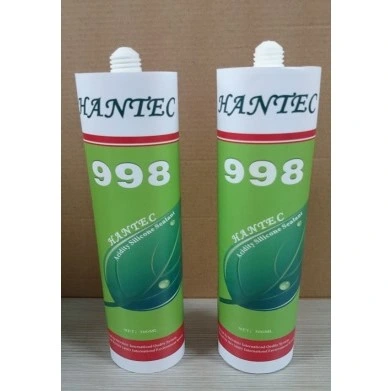 Detailed Product Description:
1-General purpose acid silicone sealant.
2-Acetoxy Cure.
3-Good adhesion to most of the materials.
4-Quality stable.
5-Be available cartridge type.
Product Description:
Hantec HTL-998 general-purpose silicone sealant is low modulus, elastic joint. One component, cost effective silicone sealant. Hantec HTL-998 silicone sealant is temperature-resistant property constructions to Its waterproof and airtight characteristics. It is weather resisting and anti-ageing properties will not be degraded under the Influence of rain, snow, or long time being illuminated by ultraviolet ray.
Characteritics:
1-Easy to apply.
2-Non-Sag.
3-Available in a wide range of colors.
4-Can be applied in any seasons.
5-Cures to a strong, flexible seal capable of withstanding movement in and Around the joint.
6-Quick curing with excellent adhesion to most of the materials.
7-Stable and flexible -20ºC~110ºC.
Technical Date Information:
As Supplied-Tested at 23ºC±2ºC. RH50%±5%. Aspect Tixotropic Paste.

Total Cured Time:

24Hours

Gravity

0.98~1.1 g/cm³

Skin Cure Time

5-20 min

Tack-free Time

15-30Mins

Sag/Slump

≤1 mm

Extrudability

≥200ml/min

Application Temp

+5ºC~+40ºC

As Supplied-testing at 23ºC±2ºC,RH50±5% 7days.

Hardness: 24H, Shore A≥8

Hardness: 7D, Shore≥ 15
Applications:
Hantec HTL-998 Silicone Sealant can be used widely in building, automotive, Package, advertisement and family decorations, also can be used to glaza, seal and fill joints on the windows, skylight, signs, internal/external fixtures and fitting, doors and etc.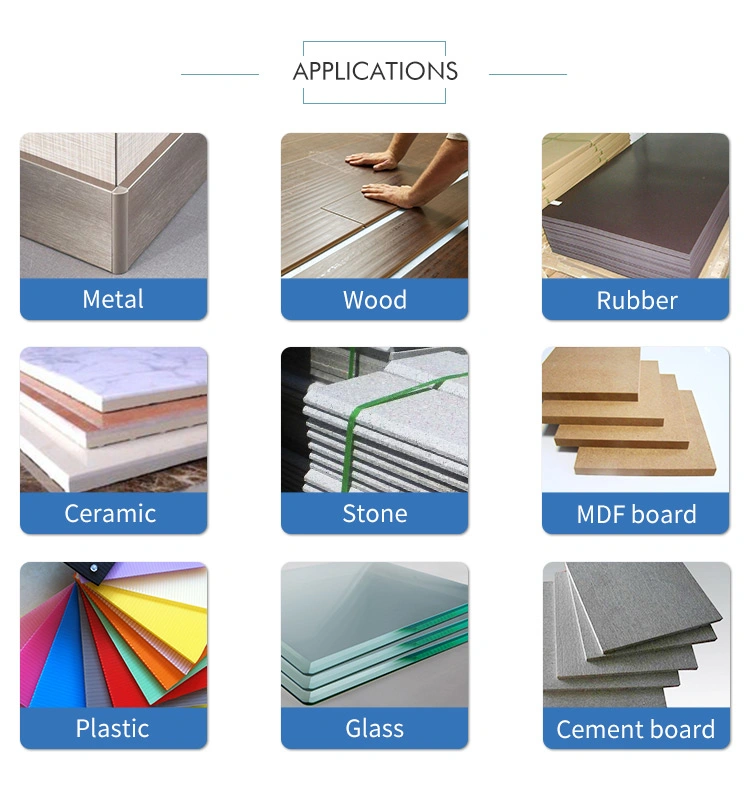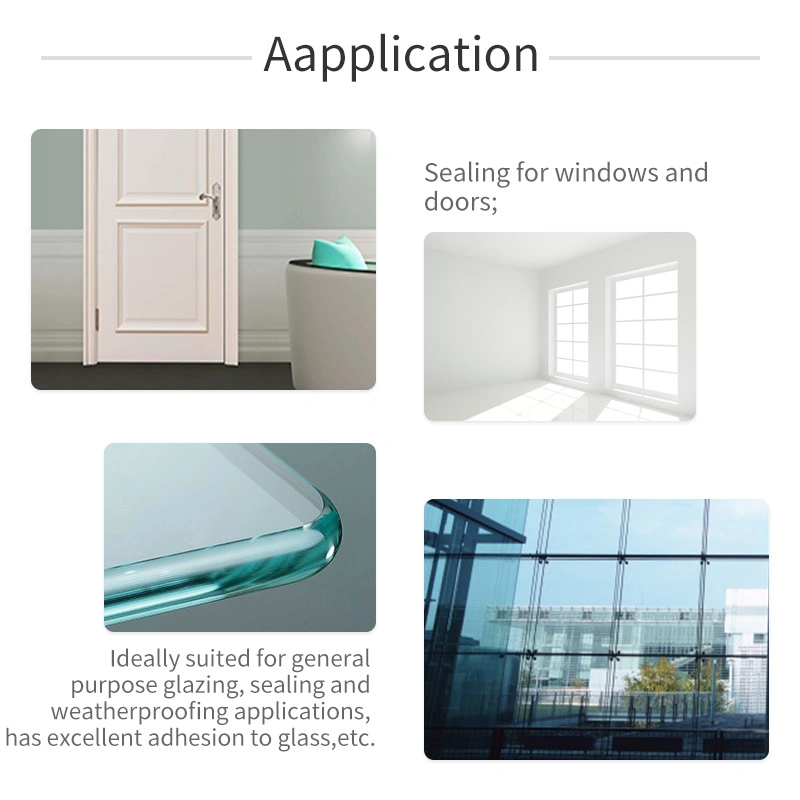 Applications Limits:
Hantec HTL-998 Silicone Sealant is not adapted to structural fitting and Following situations:
1-To all surface that bleed oil, plasticizers or solvents such as wood immersed in oil, Oil crack filler, and some uncured or sulfurized fat and to surface where is wet.
2-To the substrate that the surface temperatures exceeds +50ºC or apply at the Temperature below 5ºC.
3-Use in the manufacturer of IG Units.
4-To closed or confined areas where sealant cure may be inhabited by lack of air (Silicone Sealant needd the water in the air to cure).
5-To use in construction or sealing of aquariums.
6-To the circumstances as immersed in the water for a long time.
7-Shall not be applied on lead, zinc and galvanized steel plate.
8-To the painted surface, may cause seal failure as the paint cracking or stripping.
9-To the places that easily suffer mechanical clash.
10-Use in the IG curtain wall sealing.
11- Contact with the Neutral Silicone Sealant.
Operation:
1-Application temperature: +5ºC~+40ºC
2-Cleanse with the cleaning agent, to keep the substrate surface completely clean)
3-Use the sealant after cleaning agent dries, around 1-2 mins later.
4-Use two different cloth, one for cleaning agent, and another for sealant.(Notice That the two can't be mixed use together, and the second cloth will be better purified cotton and no picking.)
5-For better appearance, cover outside of joint area with masking tapes after application.
6-Cut nozzle to desired size and extrude sealant to joint areas.
7-Tool immediately after sealant application, make it smooth and remove Masking tape before sealant skins.
Required Testing In the Applications:
It is the responsibility if the end uesrs to thoroughly test any proposed use of The sealant and independently conclude satisfactory performance in the applications.
Shelf Life:
9 months in unopened package in a cool and dry storage place at the temperature Between +5ºC~+25ºC.

Color: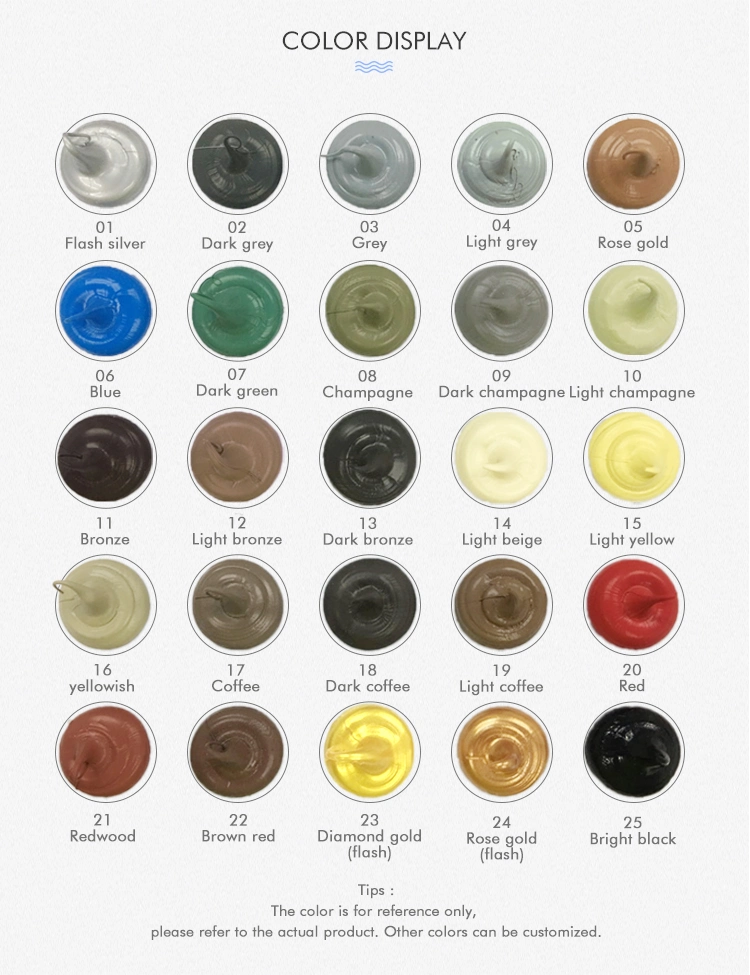 About us: