Automatic Oil Kinematic Viscosity Tester (series TPV-8)
Product Application
The Determinator, applicable to GB26588, GB1814, ASTM D445, IP71, and other determining methods, adopts precise digital
temperature controller to control temperature, with advantage of digital display, high accuracy of temperature control, time-reckoning via digital stopwatch and uniform temperature of homoeothermic waterbath. It not only can be installed with four
viscometers for testing simultaneously, but also can be high-viscosity homoeothermic waterbath for other testing.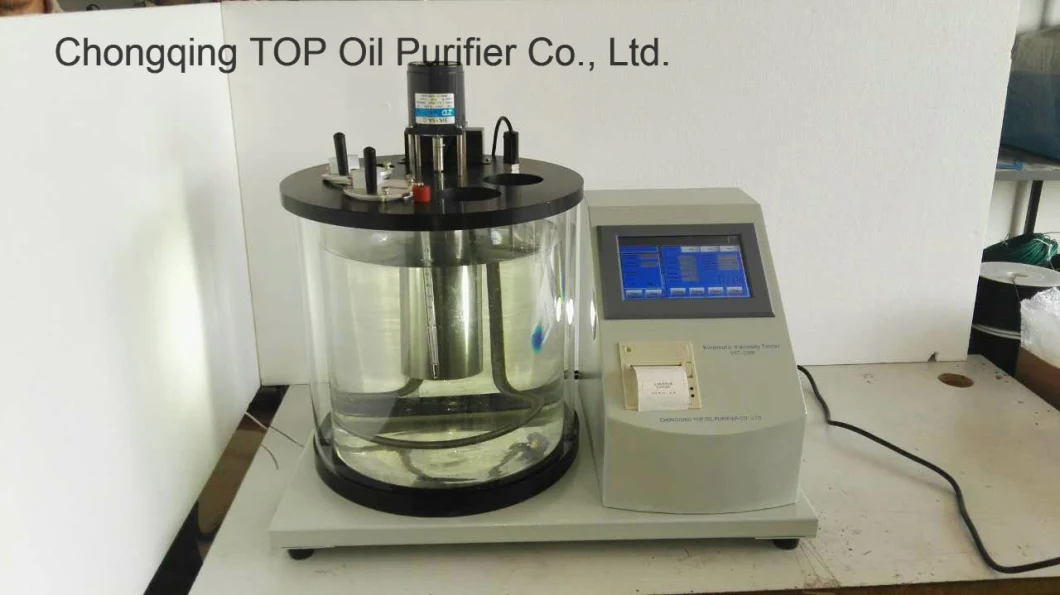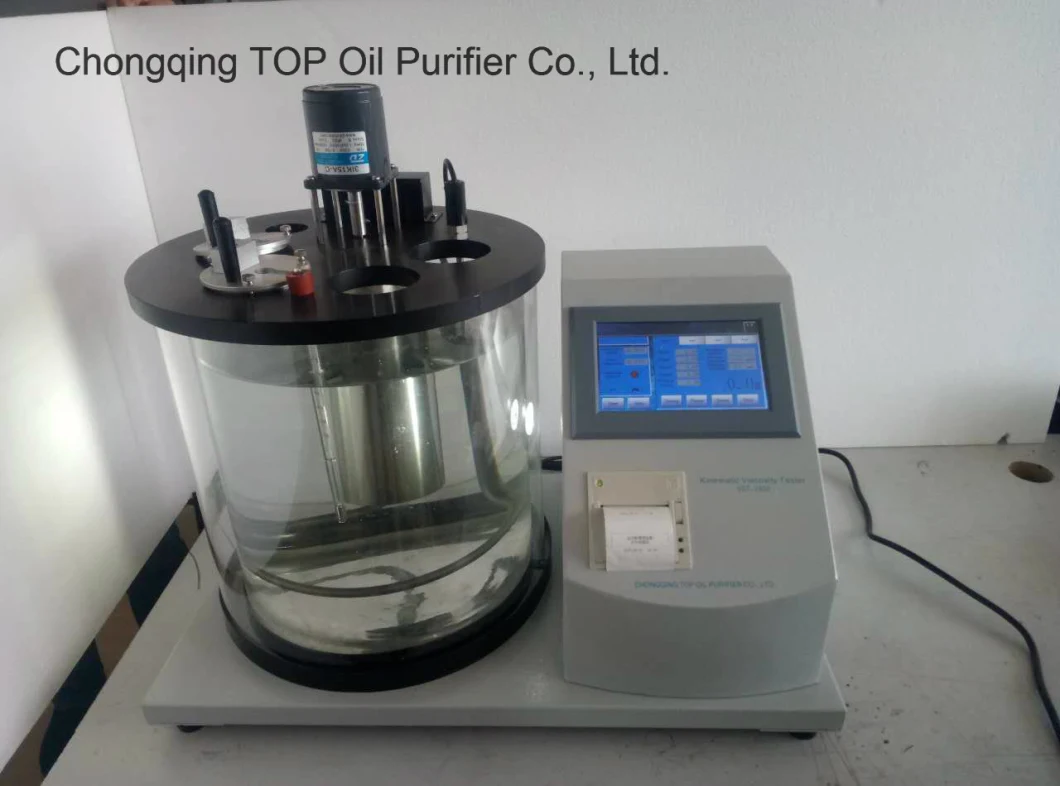 Product Features
1. Adopts imported precise digital temperature controller to control temperature of bathtub and highlighted digital stopwatch for timing, easy to operate.
2. Equipped with ten-liter homoeothermic bathtub with advantages of uniform temperature and effective temperature control.
3. Equipped with stainless steel heater and components, anti-corrosion and durable; and employed with annular typed daylight
lamp for lighting, easy to observe.
4. The Determinator, with four viscometer installing holes, can test four types of oil for testing simultaneously.
5. Capillarimeter clutch is three-point vertical type, with advantage of flexible and convenient operation and reliable grasp.
Technical Parameter
Performance Standards
GB265-88 ,GB1814,ASTM D445,IP71, etc.
Capillary Viscometer
Conform to SH/T0173-92 Technical Conditions of Glass Capillary Viscometer
Conform to JJG155 Verification Regulation of Routine Capillary Viscometer
Method of Display
Precise digital temperature controller
Highlighted digital stopwatch calculagraph
Temperature Control Range
Arbitrary setting between room temperature and 150ºC
Testing Range
Kinematic viscosity:0.5~20000mm2/
Kinetic viscosity:0.3~40000mPa.s
Temperature Control Accuracy
±0.1ºC
Timing Accuracy
±0.1S
Timing Range
0.1S-999.9S
Homoiotherrmal Bathtub
300×300mm double layer
Temperature Testing Components
Precise imported platinum electric resistance
Stirring Speed
1520Rounds/Min
Highest Power
1800W
Sample Installing Quantities
4 pieces
Working Environment
Ambient temperature: 15--35ºC Ambient Humidity: <85%
Power Supply
220V ac±10%50Hz±1Hz
Dimension(largest)
220*190*500(L*W*H)
Weight
12Kg
Our Major Testing Equipment
1.Transformer oil Breakdown voltage Tester ( BDV test kit) series IIJ-II
2. Acidity tester model ACD-3000I
3. Karl Fischer Water content Tester Model TP-6A / model TP-2100
4. Fully automatic Interfacial Tension Analyzer model IT-800
5.Gas-Chromatography transformer oil gas analyzer model DGA2013-1
6.Multi-functional Vibration tester model TYD-2000
7.Consolidation Point Determinator model PT-2000
8. Kinematic Viscosity tester model VST-8 /model VST-2000
9. Flash point tester (open cup) model TPO-3000
10. Flash point tester (close cup) model TPC-3000
11.TAN-DELTA TESTER,10kV Capacitance and Dissipation Factor Test Set model CDEF
12. Automatic Freezing Point & Pour Point Tester model TP-501Z
13.Determination of foaming characteristic of lubricating oil model SD-12579
14. Earth resistance tester model HYDW-II
15. Coil Resistance Tester (TPZC-40)
16. CT/PT tester model TPVA-404
17.Transformer turn ratio tester model HYG-II
18. Relaying Protection Tester model TPJB-III
19. Digital Grounding Resistance Tester model TP2571-II
20.DC High Voltage Generator model ZGF
21.Underground water/gold detector model TP-UWD
About us:
Hello Friend!
Chongqing TOP is a professional leading manufacturer and supplier of oil purifiers and various related testers. We consists of departments respectively for technological development, machinery manufacture, instrument manufacture, quality control etc. On basis of mature development and manufacture technology and highly qualified production management team, the products own high quality, easy operation, excellent performance and lone service life.
Customer satisfaction is our utmost priority thus, customer service team is always on the brink to help our customers with their queries at any time.
We believe in working as a unit with an attitude of complete trust and understanding and are determined to provide safe, reliable and competitively priced products to our customers.
TOP Oil Purifiers
uses single or multi-stage filtration to remove, particulate, free water, and small quantities of dissolved water if necessary. The systems are usually customized to suite the specific customer application. Oil "regeneration", "reclamation", "recycling" are all terms used to describe the process of restoring used, aged, contaminated oils to "like new" reusable condition. The reclamation process removes free water, most dissolved water, dissolved gas, particulate, carbon contamination, acids, oxidation by products, most color bodies, wear metals, and most additive chemicals.
TOP Oil Testers
works on the development, production, market, technical and after-sale service for petrochemical analyzers, transformer substation electrical testing equipment and circuit detecting equipment. Main products are water content testers, surface/interfacial tension testers, flash point testers, kinematic viscosity testers, oil acidity testers, insulation oil dielectric strength testers, transformer characteristics testers, relay protection testers, high voltage testing equipment etc.