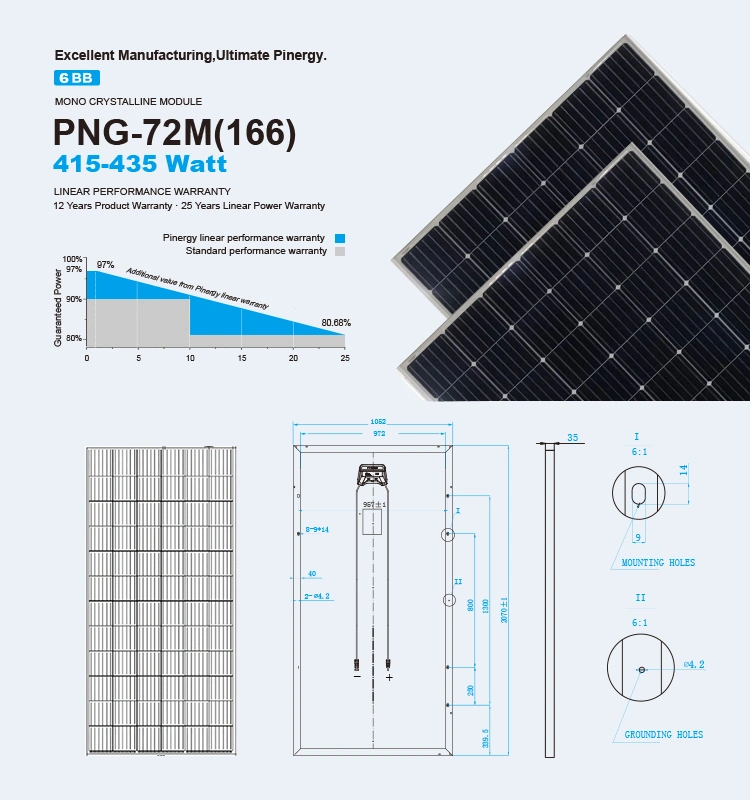 ELECTRICAL DATA(STC)
| | | | | |
| --- | --- | --- | --- | --- |
| Module Type | PNG415-72M | PNG425-72M | PNG430-72M | PNG435-72M |
| Rated output(Pmp/Wp) | 415 | 425 | 430 | 435 |
| Short circuit current (Isc) | 10.73A | 10.92A | 11.00A | 11.09A |
| Open circuit voltage(Voc) | 49.8V | 50.2V | 50.4V | 50.6V |
| Maximum power current(Impp) | 10.06A | 10.18A | 10.24A | 10.30A |
| Maximum power voltage(Vmpp) | 41.23V | 41.73V | 41.98V | 42.23V |
| Module efficiency (%) | 19.06% | 19.52% | 19.75% | 19.98% |
| Power tolerance (W) | 0~+5 | 0~+5 | 0~+5 | 0~+5 |
Standard Test Condition(STC): Irradiance 1000W/m², Cell Temperature 25ºC, AM1.5
ELECTRICAL DATA(NOCT)
| | | | | |
| --- | --- | --- | --- | --- |
| Module Type | PNG415-72M | PNG425-72M | PNG430-72M | PNG435-72M |
| Rated output(Pmp/Wp) | 309.6 | 317.1 | 320.8 | 324.6 |
| Short circuit current (Isc) | 8.63 | 8.75 | 8.81 | 8.86 |
| Open circuit voltage(Voc) | 46.57 | 47.07 | 47.32 | 47.57 |
| Maximum power current(Impp) | 8.08 | 8.17 | 8.21 | 8.25 |
| Maximum power voltage(Vmpp) | 38.33 | 38.83 | 39.08 | 39.33 |
Nominal Module Operating Temperature(NOCT): Irradiance 800W/m²,Ambient Temperature 20ºC, AM1.5, Wind Speed 1m/s
Quality and Safety
1. Strict quality control meets the highest international standards.
2. High-transmissivity low-iron tempered,antireflective,self-cleaning glass, strong aluminium frame.
3. PID free ,Grade A cells.
4. Using UV-resistant EVA film. EVA light transmissivity more than 91%.
5. Backsheet surface coated EVA and Fluoride,UV-resistant.
6. IS09001/14001//TUV cetificated
7.EL test will be done both before lamination and shipment.
8.Fully automatic production lines and production capacity over 800MW/year



Structural parameters



1.Up to IEC1500 VDC system voltage, saving on BoS costs.
2.Minimize micro-cracks and prevent snail trails.
Suitable for harsh environments, such as coasts, deserts and lakes.
3.Fire Class A and Type 3/Type 13 certified according to IEC 61730-2/ MST 23
4.5400 Pa snow load, 2400 Pa wind load.


A Grade Monocrystalline Silicon Solar Cell

Format: 156±0.5mm, diagonal 219.2±1.0mm; Average thickness: 200μm ±20μm
Front(-): 1.5mm bus bars(silver) ; anti-refelecting coating(silicon nitride)
Back(+): 2.5mm wide soldering pads(silver) ; Back surface field(aluminiem)




A Grade Material






Project Cases







Our Factory





Delivery Methods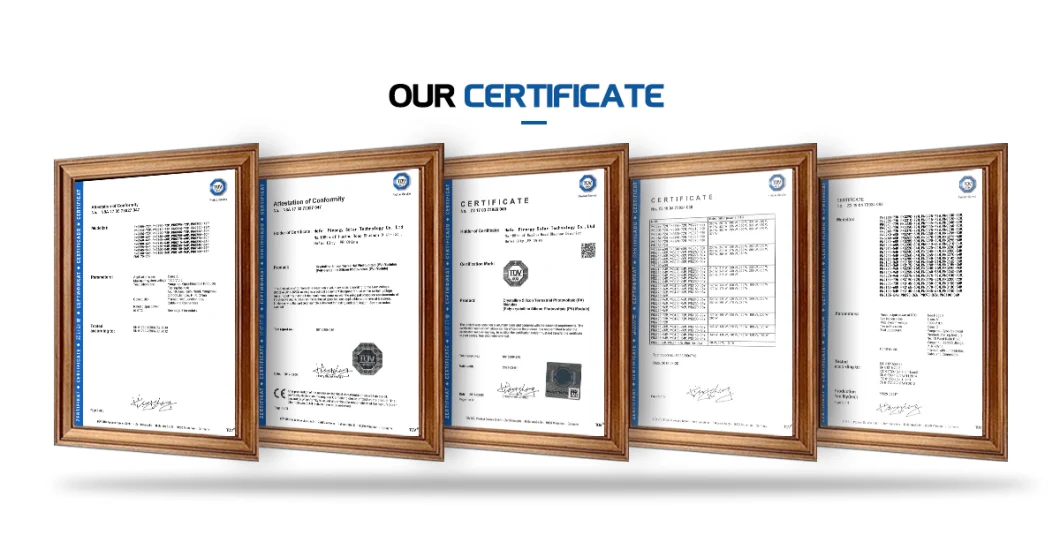 FAQ.
What's your payment terms?TT,Letter of Credit,Paypal,Western Union etc. Could you send free sample?
Your sample fee will be returned when your place next order.
Can we print our own logo?
Yes absolutely.
What are the advantages of your company?
We are new factory ,now we control thin benifit for developing customers , price ,quality and service will never let customers down!!