Organic Tin Cured Electronic Potting Silicone Rubber HY-215
Product Description
HY-215 for electronic potting
Two-component silicone, tin-curing, flowable, vulcanizes at room temperature. Can be used for a long time in the temperaturerange of - 65 ° C - 200 ° C and keep its soft andelastic properties.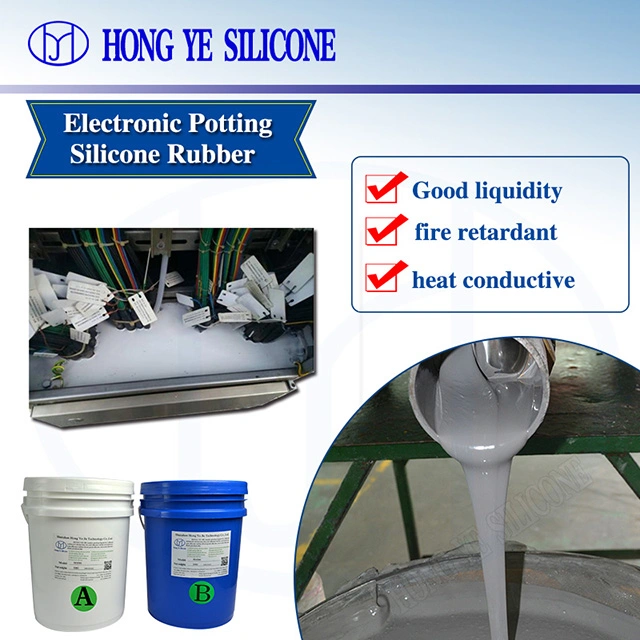 Application
Used for potting, encapsulating, sealing andbonding, widely used in electronic products, electricity, power supply, automotive ect.
For example, used for potting of electroniccomponents, power module and control moduleand controllers, junction box, solar cell assembetc .
Can reduce stress and withstand high and lowtemperature impact.
For the high power controlmodule, thermal conductive silicone is used toachieve the function of heat dissipation, oroutdoor protection for electronics such as LEDscreen.Improve the insulation level of electronics,improve heat dissipation, and avoid the risk ofelectronics overheating and burning in a shorttim.

Parameter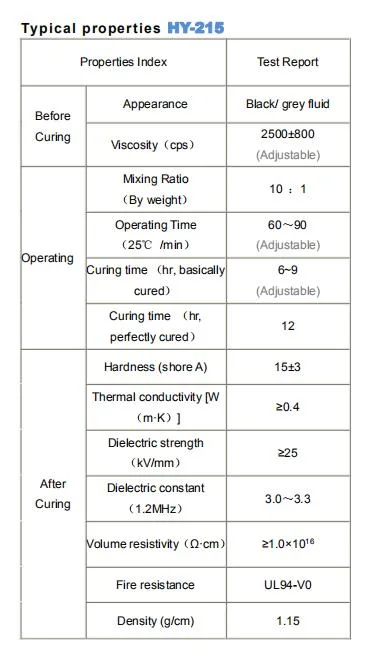 Warm tips
A. As it's very easy to cuase uncure problem , pls clean up all the tools which had mixed with
condensation cure silicone rubber to avoid uncure problem .
B. Do not add any pigment or powder into the addition cure silicone rubber before testing to
prevent uncure.
C. Addition cure silicone rubber is bicomponent including Part A and Part B, do not add the
Part B on the container which had hold Part A,the same for part B .
D. The mixing ratio (1:1, 10:1) must in strict accordance with the ratio in case of the changing of
hardness

Handing and Storage
1. Precautions for safe handling:
Protective measures: Training should be provided to anyone working with or near this material. Training should cover potential health effects and proper handling techniques. Avoid contact with eyes, skin and clothing. Avoid ingestion and inhalation.
Measures to prevent fire: Ensure good local exhaust ventilation. Keep container away from any sources of ignition or heat (e.g. open flames, hot surfaces). The work area should be equipped with the corresponding species and quantity of emergency equipment, spills emergency treatment equipment and appropriate storage material.
Measures to prevent aerosol and dust generation:Ensure good local exhaust ventilation. Measure to protect the environment: Do not allow this products to be released to the environment without proper treatment. Advice on general occupational hygiene: Eating, drinking and smoking should be prohibited in areas where this material is handled, stored and processed.
2. Conditions for safe storage, including any incompatibilities:
Technical measures and storage conditions: Store in a cool, dry, well-ventilated area away from incompatible substances, feedstuffs, beverages and foods. Keep away from heat, sparks and flame. Treat carefully, avoid physical damage to
containers. The storage area should be equipped with the corresponding species and quantity of emergency equipment, spills emergency treatment equipment and appropriate storage material.
Requirements for storage rooms and vessels: Keep container tightly sealed.

Company Information
Shenzhen Hong YeJie Technology Co., Ltd.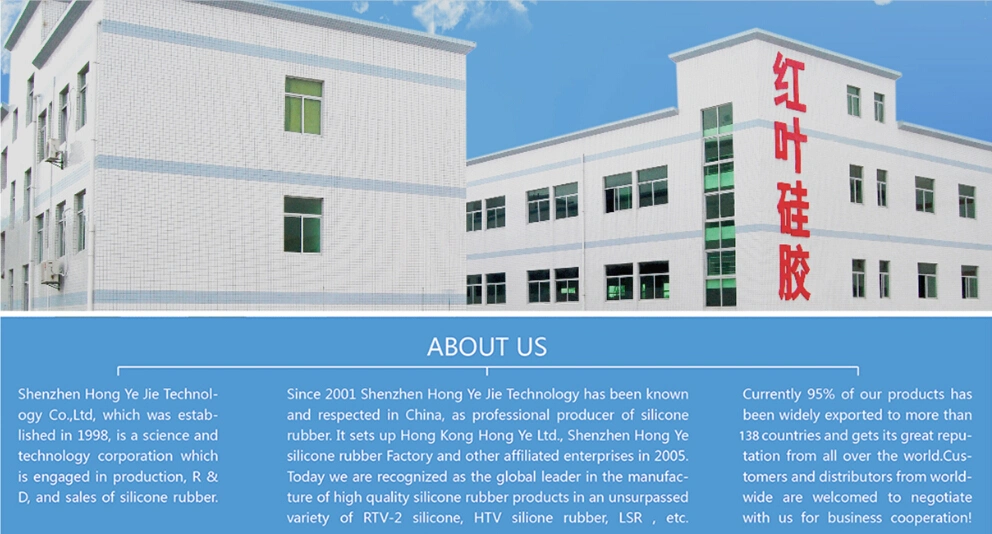 If you need rtv2 silicone rubber, we are pretty sure we will be your reliable backing
As a global silicone rubber manufacturer, we focus on commitment, integrity, and put quality first permanently, this is how we develop in the past 20 years. Below is our company's profile:
1. We are 20 years silicone rubber manufacturer in China,
2. Our rtv2 silicone rubber has been sale to 138 countries since 2006,
3. we are also 13 years gold supplier on alibaba.com, 11 years gold supplier on made-in-china.com.
4. Our boss Mr Guibin Li is a member of Alibaba Network Chamber of Commerce (If you need, we can send you the video of Alibaba interviewing our boss in next email.)
5. Our company has been awarded the Most Core Competence Enterprise in Guangdong Province, China.

If you can give both of us an opportunity to try our samples at first, we are 100% sure you or your customers will be satisfied with it.
Any interested, quotation & free samples for your evaluation!

Contact us
If you are interested, we can provide
free samples
for you to test and pls free to contact
Jessica Lin
. Have a nice day~