Rubber Dispersion Mixer, Compound Dispersion Mixer

Item

3L

5L

10L

20L

25L

35L

55L

75L

110L

150L

200L

Total Volume of Mixing Chamber (L)

8

15

25

45

55

75

125

170

250

325

440

Working Volume of Mixing Chamber (L)

3

5

10

20

25

35

55

75

110

150

200

Driving Motor Power (KW)

5.5

11

22

37

37

55

75

110

185

220

280

Tilting Motor Power (KW)

0.55

1.1

1.1

1.5

1.5

2.2

3

4

5.5

11

11

Tilting Angle (°)

140

140

140

140

140

140

140

140

140

135

135

Rotational Speed of the Rotor (Front/Rear) (RPM)

32/24.5

32/23.5

32/25

32/27

32/27

30/24.5

30/24.5

30/24.5

30/24.5

30/24.5

30/24.5

Pressure of Compressed Air (MPa)

0.5~0.8

0.6~0.8

0.5~0.8

0.6~0.8

0.6~0.8

0.5~0.8

0.6~0.8

0.6~0.8

0.6~0.8

0.6~0.8

0.6~0.8

Capacity of Compressed Air (m

³/min)

≥0.3

≥

0.5

≥

0.5

≥

0.7

≥

0.7

≥

0.9

≥

1.0

≥

1.0

≥

1.5

≥

2.0

≥

4.0

Pressure of Cooling Water (Rubber Mixing) (MPa)

0.2~0.4

0.2~0.4

0.2~0.4

0.2~0.4

0.2~0.4

0.3~0.4

0.3~0.4

0.3~0.4

0.3~0.4

0.3~0.4

0.3~0.4

Pressure of Heating Steam (Plastic Mixing)(MPa)

0.5~0.8

0.5~0.8

0.5~0.8

0.5~0.8

0.5~0.8

0.5~0.8

0.5~0.8

0.5~0.8

0.5~0.8

0.5~0.8

0.5~0.8


Structural Features:

1. Rotor wings are welded by hard chrome and carbide alloy.
2. Abrasion proof and corrosion proof.
3. Rubber stock are discharged by tilting 140 degrees.
4. High efficiency, energy saving and saving occupied space.
5. Imported brand PLC control ensure good performance.
6. Interlock protection ensure low personal injury.
7. Good sealing , no leaking
7. With CE certificate.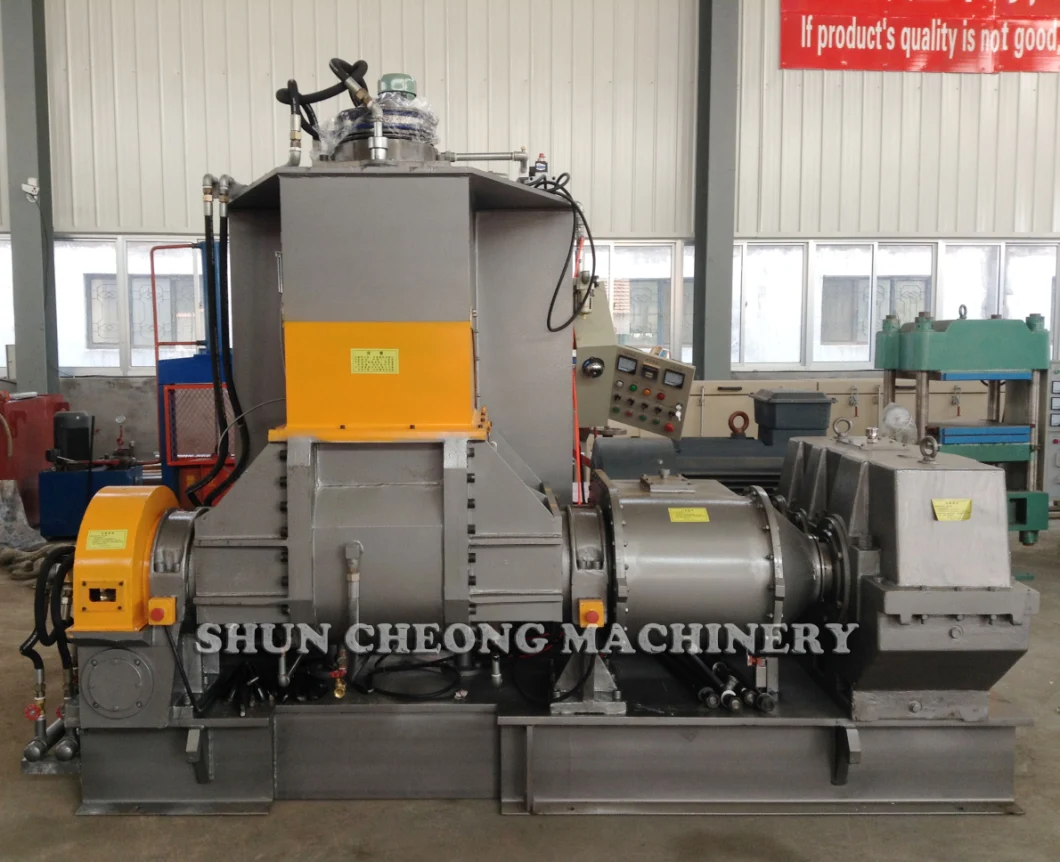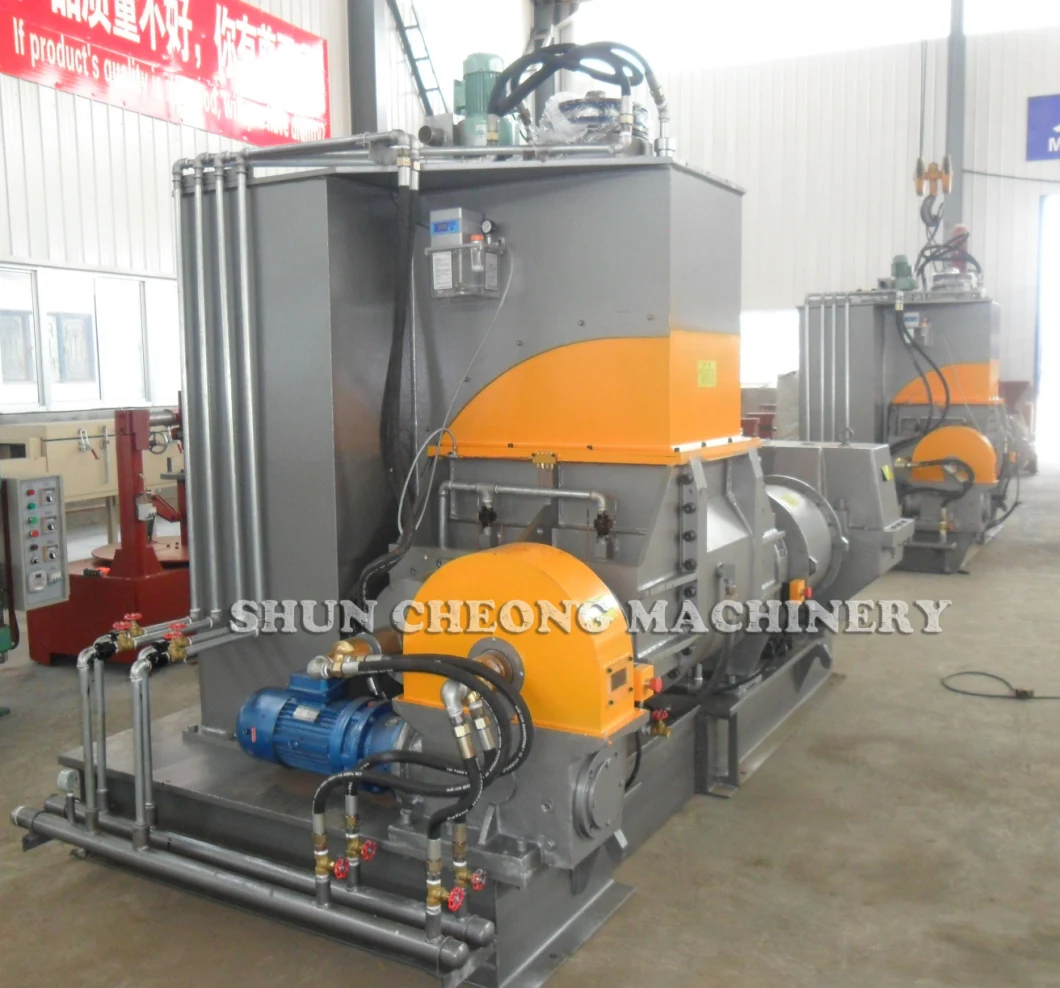 Superiority:

1. With completely sealed condition, materials are mixed or plasticated under certain pressure, controllable temperature, which makes high production efficiency and obtains excellent stale quality

2. Spiral angle and over lapping length of blades of the rotors are in good design and make the material to be dispersed uniformly.

3. Surface where is contacted with the materials are all plated with hard chromium and polished, which is corrosion-resistant and wear-resistants.

4. Jacket construction is adopted in parts that surfaces contact with materials to achieve excellent water-cooling and steam heating effects and fit in with the needs of plastics and rubber processing technologies.

5. Programmable logic controller is adopted in the electric -control system, which system, which has reliable function and alarm function, and interlock. Safety-protection function and it is provided with serial interface of net.

6. The rotor adopts rolling bearing for support, so the maintenance work is convenient and the service life is long.

7. The transmission device adopts NGW hard tooth flank planet reducer, which has compact structure, low noise and high efficiency. It furnished with reasonable designing, construction tightly packed, occupying small area, installing convenience, highly efficiency of production, operation simply.

8. The rubber kneader is the advanced new type mixer equipment of rubber and plastics industry, various features are so advanced as the same product of foreign. For seal designing, we get excellent result in sealing and everlasting


Company Introduction:

1. 20 years on rubber machine manufacturing and exporting.
2. Delivery within 35 days.
3. Safety wood or plywood crates packing.
4. Full transportation insurance.
5. Sell to 126 countries on 6 continents.
6. One-stop rubber machinery solution in Qingdao Shun Cheong.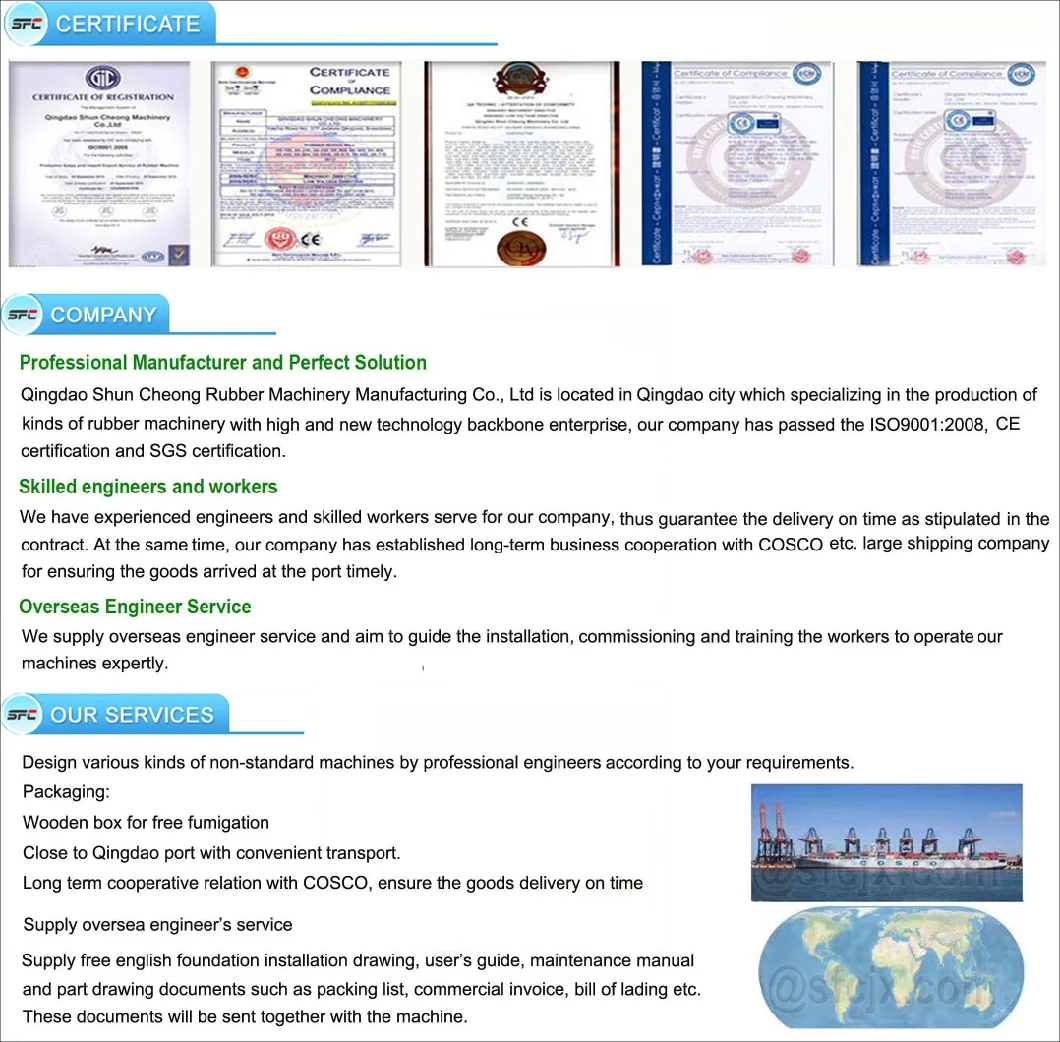 FAQ

1. Delivery time of the rubber machines?
This is specially designed machine according to your specific requirement.
From engineer designing to production completion, it needs about 25 to 35 days.

2. What does your factory do regarding quality control?
We pay much more importance to quality control from the very beginning to the end of production.
Every machine will be fully assembled and carefully tested before shipment.

3. What's the machine quality guarantee?
Quality guarantee time is one year.We choose world famous brand components to keep our machine in perfect working condition.

4. Are you able to give installation and commissioning overseas? How long time will it take?
Yes, we can supply overseas service and technical support but customer needs to pay for the cost of the installation.
Small machine usually takes within 2~3 days.
Big plant usually takes about 30 days.

5. How can I trust you to deliver the right machine as I ordered?
We will absolutely deliver a good quality machine as we discussed and confirmed in the order.
The core of our company culture is innovation, quality, integrity and efficiency. Also we have had much good cooperation with world famous rubber production manufacturers. If you come to our factory, we can show you're the user around us.

6. How can we go to your side?
We are located in Qingdao City, Shandong province, China. The name of airport is Qingdao Liuting airport.
We will pick up you at the airport.


Packaging

Equipment painting completed before delivery, and then wrapped with stretch film, avoid rubbing the paint off the surface, wooden packaging can be customized, key parts, such as electronic control box, will be wrapped by shockproof packaging materials, and then packed in wooden cases.





our machineries have exported to America, Mexico, India, Vietnam, South Africa, Singapore, Malaysia, Indonisia, Australia, Sri Lanka and many other countries.

If you interested in our products mentioned above. Kindly let us know by return email. Then I will supply you with further information.
Welcome to visit our factory!